Before you start making bags and backpacks. We summarize the development process for a new bag or backpack in a few steps. It includes (1) designing the backpack and adjusting the design to a "blueprint" that defines each detail; (2) sew the knapsack into a workable sample using a method, and (3) modify and improve the sample – and refurbish it many times – until the desired product is available.
(1) Drawing
A professional drawing of a new bag or backpack, it must include all dimensions of the feature, such as pockets, gaps, etc. In addition, you must consider the materials to be used, including zippers, buckles, and other features. Send the drawing to factory to figure out if there's suitable or need something to change.
(2) Sample production
Our professional sample team can prepare samples for each bags you want to produce before starting production. If special customization details are involved, such as custom hardware, custom lining, custom leather, the delivery time of the sample will be extended.
(3) Materials
Nylon, Canvas, Oxford fabric, PVC, Artificial leather, Genuine leather……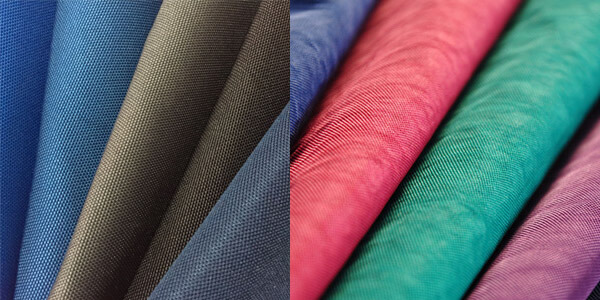 Nylon
One of the most needed textile materials for bags and backpacks is nylon. Nylon is a polyamide used in combination with other materials, such as leather, for high-end bags. It is a synthetic material made from fibers. The thickness of a yarn is expressed in denier. In general, the higher the denier strength, the stronger the tear resistance of the fabric. This is also an advantage of nylon: it is tear resistant, wear-resistant and waterproof due to poor suction. Since it is also pure synthetic, it is also moth-resistant. The greatest advantage of nylon is that it is the lightest of all materials. Therefore, if you need a light suitcase, it is recommended that you use a nylon suitcase.
Fabric
Fabric, has good softness. Recreational bag is used mostly this kind of fabrics, wear-resisting is its advantage, additional the durable wear-resisting of cloth itself also gets the favour of manufacturer and consumer. Modern technology makes up for the fact that the fabric itself is not waterproof. In addition, it is easy for us to design various styles on fabrics, so more and more bags of fabrics enter the market and become the leading role in the field of luggage and bags.
Artificial leather
Artificial leather: PU (polyurethane), PVC (vinyl), TPU. PU leatherette is the most popular and is widely used in different cases and bags because they can be made in different patterns and colors. They can also be made into biodegradable, environmentally friendly leather, which is widely used in today's fashion handbags and accessories.
Genuine leather
Genuine leather: cowhide (cow's natural unbleached skin; The best leather is usually in its natural color; To be patterned into animal patterns, such as crocodile, snakeskin, lizard skin), napa leather (usually dyed and made by children, cow, calfskin, lamb or other tanned leather), Nubuck (cattle leather with a top pattern, having been polished or polished on one side (or outside) of the grain, and having a velvety surface. Wear resistant, may be white or colored), ostrich skin (second only to kangaroo leather, the second strongest leather in the world), suede (fleecy leather, made from the underside of the skin; It is mainly made of lambskin, although goats, calves and deer are usually used)), etc.; Hide – vegetable tanned hide (for high-end luxury backpacks).
(4) LOGO and Printing
Printing and logos. The logo drawing of the design needs to be vectorized and the font outline marked. It is best to name the font in case the font changes. Specify dimensions and specifications.
Logos and lettering can be applied to products in a variety of ways. You can use a screen print of the logo or product name internally. In addition, the logo can be sewn or embossed. For example, logos can also be produced and installed on small metal plates. But an extra mold is needed.
(5) Price
Pricing. Quantity greatly influences the price of customized products. Price discounts will be based on individual products. All prices are quoted on FOB basis
(6) MOQ
Minimum Orders. In most situations, 500 pieces or $2000 is the minimum order value.
(7) Packaging
Packaging. Normally, all orders are packed in bulk unless otherwise stated at the time of ordering. We can also arrange separate packing according to your needs.
(8) Delivery Time
Time of delivery. For domestic orders, work is usually completed within 2 to 3 weeks of receipt of all materials. We will do our best to meet your specified dates. For import orders, 60-75 days after receipt of pre-production approval
(9) Order Cancel
The customer shall be responsible for all material and labor costs purchased prior to cancellation of the order.