AB02 Hiking Backpack
The waterproof hiking backpack is a nice medium 40L travel or camping bag for men and women. It can extend to 50L large by unzip the bottom space. Except the black, blue, brown and camo color showed on the pictures, we can customize what you want, like pink or green.
Multifunctional compartments design backpack for camping and hiking. We use quality materials for day hiking backpacks. Made of durable environment-friendly waterproof polyester fiber, it can withstand heavy use and harsh conditions. This waterproof adventure backpack has comfortable padding on the back for maximum back support.
Description
Stylish outdoor backpacks are perfect for many occasions. It is suitable for commuting, weekend travel, overnight travel, hiking and other outdoor sports. Ergonomically bag designed, thick but soft multi panel ventilation pads provide comfort when air flows to provide maximum back support. It prevents overheating and promotes air circulation. The adjustable shoulder straps also have thick paddings to relieve pressure on your shoulders and neck when your equipment is full.
Specification
Fabric: 800D Oxford
Size:
40L: 35W * 21D * 60H cm, bottom zipper open 50L 35W * 21D * 72H cm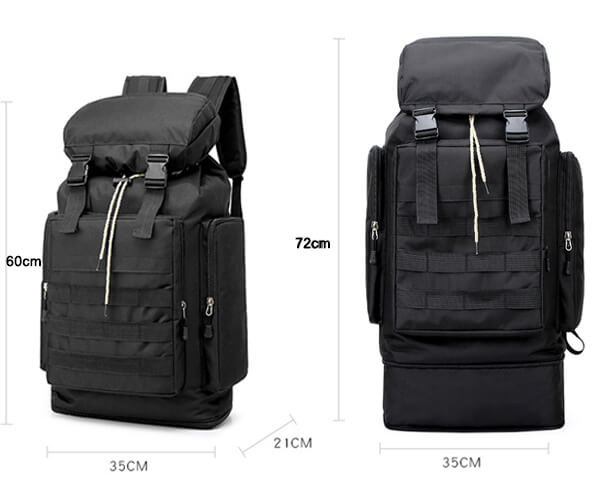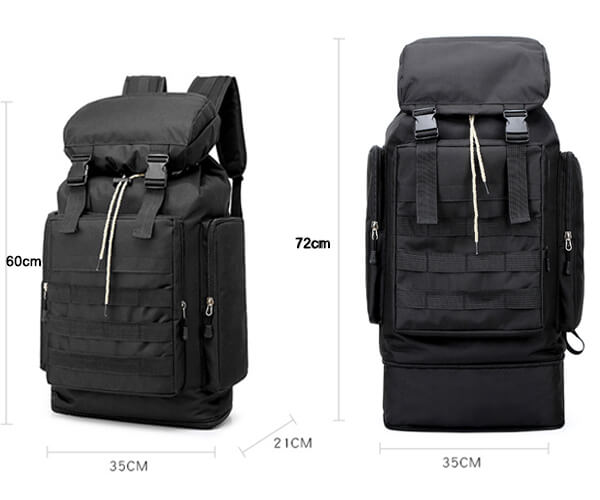 Water Resistant Hiking Backpack Features
Reinforced hand strap.
Removable back strap.
Adjustable binding ribbon. Can be used to bind alpenstock and other outdoor items.
Comfortable carrying system
This backpack is designed on ergonomic principles. With a large backpack, the load will increase. The breathable design of a thickened sponge mesh is especially applied to the shoulder straps and waistline of the backpack, reducing the possibility of the straps slipping and providing a comfortable waist. At the same time, this design can effectively alleviate muscle fatigue and increase the stability and comfort of the backpack.
Breathable sponge straps: The straps are thickened and non-skid.
Super belt: reduce the burden of the waist and the risk of injury, greatly increase the comfort and safety of the waist.
Powerful storage space
Large capacity waterproof backpack for outdoor use, consisting of one main bin, one secondary bin and two side bin. The main cabin can hold about eight autumn suits and one down jacket. The sub can hold a laptop, notepad and other gadgets. Two side compartments can hold mini-binoculars, wallets, kettles, headphones, etc. Super capacity backpack to meet your equipment needs.
Anti – splash function
The backpack is equipped with a separate rain cover. The rain cover is made of Black 420D encrypted waterproof lining, which has the functions of anti-splash, anti-penetration, abrasion and tear resistance.